Greeting

Whether it's our signature Nakamura sliced veneer or our fancy plywood, we ensure consistent quality and take pride in offering you the best product possible.

We have been gifted with the traditional woodworking skills distinctive to our local area. These techniques have been cultivated for many years and are still in practice today. Often referred to as "Takumi", these techniques are used in the manufacturing of home furniture and building materials. These products quickly spread across Japan and became so famous, that soon the city of Okawa was coined " The wood furniture town".
Although we have preserved our traditions to use the Takumi method, we have been challenged to develop other new products to satisfy the ever-changing market. To name a few, we've developed wood products resistant to fire, pests, and decaying. Despite these new ventures, we will never fail in offering you the same premium quality products we always have since the beginning.
We have a strong bond with the community and truly care that we take the best measures to be as environmentally friendly as possible. Our goal is to provide you with the best experience possible while developing a relationship of trust and prosperity. Whatever your ambitions may be, we are honored and privileged to serve your every need.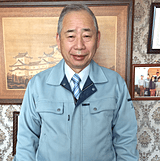 | | |
| --- | --- |
| 1968 | Graduated from Fukuoka Rikkyo Univ. River technical high school |
| 1968 | Became employed with the Bridgestone Tire factory in Kurume |
| 1969 | Completed contract with Bridgestone Tires |
| 1969 | Became employed at Nakamura sliced veneer company |
| 1994 | Nakamura sliced veneer was seperated from its' partner company becoming it's own entity |
| 1997 | Nakamura sliced veneer was established as a limited company |

Wife Mikiko S31 age birth (Nakamura sliced veneer duty)
It was born in chodan*go S59 year

Reading, trip, golf, Noh song, recitation of a Chinese poem

Okawa makeup plywood industry (cooperative) director <from 2009 to 2012>
zenkokutenzemmokukashogotambankogyo (cooperative) director <from 2007 to 2010>
Okawa Chamber of Commerce 3 member of the Diet <from 2008 to 2013>

"At first it is *so a patriot living young age feeling serpent"